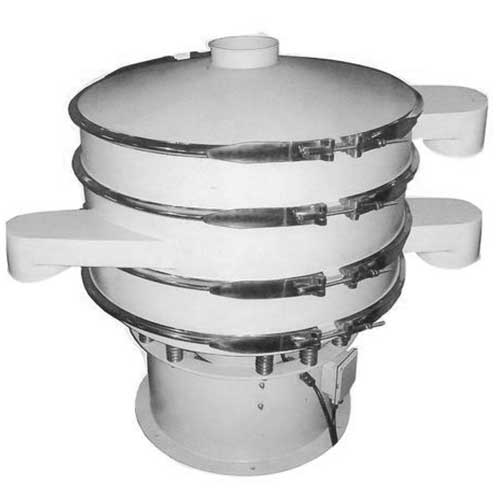 Vibratory screening equipment equipped with Vibro Motor delivers gyratory motion through centrifugal unbalanced force on the circular decks mounted on multiple springs. Suitable to separate super fine materials below 3mm. The equipment available with anti-blinding elements. Body construction available in M.S. or S.S. material and also in GMP standard.
Advantages
Low running cost – The low power required to run, it facilitates an overall low cost of operation for this machine.
Ideal for multi-fraction separation – The machine employs the use of smaller stacked screen frames, the screens can be accurately placed to get the precise outflow in each separation.
Flexibility – It can be used in many situations, regardless of whether the solid to solid mixture to be separated consists of a binary mixture, or a mixture consisting of multiple fractions.
Efficiency and quality of separation – Absence of vertical motion in the mechanism, coupled with gentle motion enables more accuracy in separation.
Easy maintenance – The machine employs the use of screen cleaners, which act to prevent any clogging.
Reduced screen blinding – Vibration by the bottom weight reduces screen blinding.